Trademaster T800 Gas Analyser
The Trademaster T800 is the first of the new generation of Gas Analysers and Smoke Meters, marking a step change in performance, operation and looks. Everything about the T800 is technically advanced and is designed to propel your business into the future, with a major emphasis on saving time and money.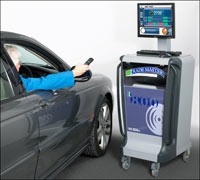 Not only quick, with a Basic Emission Test (BET) being completed in under two minutes, but visually stimulating, the results are displayed with truly stunning graphics, designed to guide the operator through the MOT test routine with ease and clear vision via the large 19" swivel flat screen.
The Trademaster T800 is based on a gas analyser and Smoke Meter measurement system with a proven track record to perform, day in, day out. Low maintenance filtration, self evacuating water trap, adjustable length exhaust probe – all illustrate the attention to detail that has gone into the design to ensure easy measurement and maintenance and all machines are factory tested prior to delivery.
The new ergonomically designed and attractive trolley is both robust and practical; it houses and protects the advanced electronic equipment, including the computer and A4 colour printer, keeping the inevitable workshop dust and grime at bay.
Engineered to take your business into the future with all of the following standard features:
Ultra fast BET test – minimising the test duration when time is money.
Superb graphics – ensuring fast, easy and clear test routine control for users.
A Gas Analyser and Smoke Meter measurement system with proven reliability, minimising downtime.
Infra red remote control – ensures ease and speed of use for the operator.
Bluetooth engine speed, oil temperature and Smoke Meter communication – provides one man operation and a tidy working area.
Ergonomic, robust, attractive and practical workshop trolley which is both strong and manoeuvrable.
Large 19" swivel LCD screen is mounted to maximise user visibility.
A4 colour printout provides clear and easy to read results presentation.
User choice of screen colour and graphics allows personal user information for fast comprehension of the results.
Industry standard PC, keyboard and optical mouse as standard.
Nationwide back up and calibration service available from experienced, local, qualified engineers.
Extended Warranty as standard.
Outstanding value for money packages and financial arrangements from The Trade Group.
Contact us now for more information or for a demonstration